'Independence Day' sequel: Director says Jeff Goldblum, Bill Pullman will return
(Read article summary)
'Independence Day' director Roland Emmerich says his sequel to the original will include the return of actors Jeff Goldblum and Bill Pullman. Will there be a cameo by Will Smith?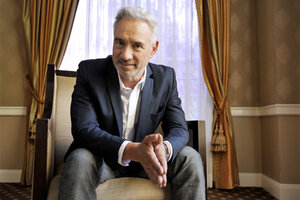 Chris Pizzello/Invision/AP
After seventeen years of rumors, speculation, and false starts, director Roland Emmerich appears to finally have some traction for the long-awaited Independence Day follow-up, tentatively titled ID Forever. If all goes according to plan, the sequel will actually be comprised of two feature length films – Part I and Part II – with the first installment tentatively scheduled for July 3rd, 2015. The filmmaker has been busy promoting his soon-to-be-released thriller White House Down, starring Channing Tatum and Jamie Foxx, which sees a hostile force take control of the White House and put the President's life in jeopardy (not to be confused with Olympus Has Fallen).
Unsurprisingly, ID Forever has been a regular topic of conversation for Emmerich on the White House Down press tour and today we've got good news for fans of patriotic speeches and outer space cigar smoking – as the director has confirmed that both Jeff Goldblum and Bill Pullman are expected to return for the sequel(s).
---