'Dexter' season premiere recap: Will Dexter choose his family or his murderous hobby?
(Read article summary)
The 'Dexter' season premiere aired on June 30. The 'Dexter' season premiere is the first episode of the show's final season.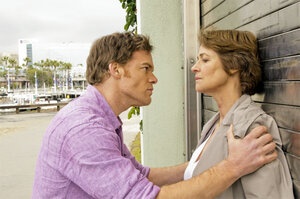 Randy Tepper/Showtime/AP
Six months have passed since the events of the Dexter season 7 finale, revealing that, in spite of what previously occurred, Dexter has been able find solace in the peace that Debra's forced bloodshed has provided him. No longer seen as the prime suspect for the Bay Harbor Butcher, or the focus of desire for a femme fatale, Dexter has taken these months to put his life in order, to once again be happy. For Dexter, it's as if things couldn't be any better; Deb, on the other hand, isn't holding up so well.
As Dexter has been enjoying his life, Deb, instead, made the decision to quit the force and join a private investigation firm; a step up from her previous position, no doubt, but one that she uses to punish herself for what she's done. Instead of taking on the type of high-profile cases a former Lieutenant in the private sector should, it's the "down and dirty" ones that she feels most comfortable immersing herself in. For Deb, it's simply about mentally surviving what she has done and, right now, numbing the pain is the best that she can do.
Deb and Dexter's relationship, too, has reached its breaking point, forcing Deb to realize that Dexter's unapologetic thirst for the blood reaches far beyond what she could ever imagine, to include the loss of any innocents who may get in the way. And even though Deb is aware that James Doakes fell at the hand Dexter, to keep his secret safe, it was she who had the choice, who decided to choose Dexter's life over LaGuerta's. The loss of a criminal's life is one thing, while the loss of an innocent one is completely different – but to Dexter, they're one in the same; just another mess to clean up, so to speak.
But Dexter's life isn't as perfect as he believes, and it's Debra who has been able to touch the heart of the monster, forcing him to step outside his sociopathic lifestyle in an attempt to feel for, to understand, to "fix" the sister he inadvertently and unintentionally betrayed. As a serial killer mastermind, Dexter is self-sufficient and almost perfect, and it's likely that he could very well thrive and survive if left alone. But Dexter isn't alone – not anymore.
---