Will Robert Downey Jr. play Geppetto and the title role in a new version of 'Pinocchio'?
(Read article summary)
The rumor is that Robert Downey Jr. will play both the puppet and his inventor in a live-action adaptation of 'Pinocchio.' Will the film move forward?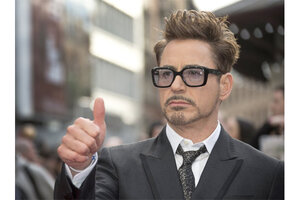 Joel Ryan/Invision/AP
Adaptations of works in the public domain can get a little confusing, since no single studio can hold exclusive rights to them and therefore there can be multiple movie versions of the same story in development at the same time. Combine this with the industry's love of dueling and the end result is situations like the 2012 face-off between Mirror Mirror and Snow White and the Huntsman (a competition that the latter film won by quite a significant margin).
Another such parallel may soon be occurring with the two separate adaptations of the classic Carlo Collodi children's novel Pinocchio. Guillermo del Toro (Pacific Rim) is planning a stop-motion animation of Pinocchio based on Gris Grimly's illustrated version of the book, though that will have to wait until after del Toro finishes directing his new horror movie Crimson Peak. Tim Burton was also attached to direct an adaptation for Warner Bros., with Robert Downey Jr. in the lead role, but he has since left the project and has (as-yet) unofficially been replaced by Ben Stiller. There is also a third film, titled The Three Misfortunes of Geppetto, which was acquired by Real Steel director Shawn Levy on spec a couple of years ago but has not seen any development since then.
---