'Arrested Development' will return in some format, says creator
(Read article summary)
'Arrested Development' creator Mitchell Hurwitz says the show will 'definitely' be returning somehow. 'Arrested Development' recently aired a fourth season on Netflix.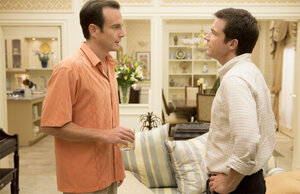 Michael Yarish/Netflix/AP
Netflix's resurrection of the beloved but short-lived Arrested Development helped cement it's emerging pre-eminence in original online content. The news of a new season was so over-hyped that when the entire season 4 was finally made available, some critics were underwhelmed and kind of perplexed. The show's fourth season turned out to be a departure from what came before, with each episode focusing mainly on one character at a time and overlapping in a way that only made sense once you'd watched them all… and then re-watched them.
Despite the mixed response from a vocal minority, creator Mitch Hurwitz wanted to do a season 5. Netflix seemed interested, with CEO Reed Hastings saying it was up to the "talent." Now we have a confirmation from Hurwitz that it's "definitely" happening… either as a series or a movie.
Chortle reports that during a Q&A with Hurwitz and Netflix chief content officer Ted Sarandos at the Just For Laughs comedy festival in Montreal, Hurwitz was asked whether or not we'd be seeing another season. "Definitely," he stated. Then he turned to Sarandos and said, "I don't want to get into a whole negotiation right now… but I've got a family to feed."
Hurwitz went on:
"I keep thinking about it, and why don't we do the movie version of this and then do the series, because this series kinda peaks with the story?
"I kinda go back and forth between that and a series. But here's the most important thing, whatever we do, I want to get the cast all together and not do another anthology thing, and that's why I keep thinking about kicking off with a special or a three-part show and then going into a series."
---