'Breaking Bad': First of final 'Bad' episodes gives viewers hope for grand finale
(Read article summary)
'Breaking Bad' began airing the second half of its final season on Aug. 11. Will the end of 'Breaking Bad' satisfy fans?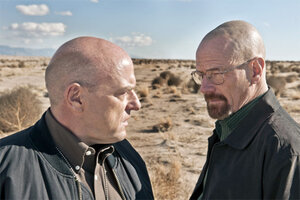 Frank Ockenfels/AMC/AP
We have finally reached that moment where our endless discussion of TV can turn to how a series finale is both a blessing and a curse. On the one hand, being granted the luxury of an honest-to-goodness finale denotes some level of success – which, in the case of Breaking Bad, has amounted to three consecutive Best Actor Emmys for Bryan Cranston and two wins for his co-star Aaron Paul – and a insatiable desire from the audience to see how it all plays out. On the other hand, there is the whole "how the heck is this going to play out?" thing that series creator Vince Gilligan and his auteur theory-rejecting staff of writers have to work with their collective backs against, while attempting to serve the story, their desires and, most gracefully, the desires and impression of the audience.
Let's be honest – completing any story is a difficult task, but Gilligan and his crew have maintained a narrative focus that would dictate the level of complexity required to pull off the strategic and artful dismount of one of the most culturally significant shows in the last 10 years. To its great credit – and likely much to the relief of the creative types orchestrating whatever will be the final moments of Walter White – Breaking Bad has had a laser beam-like trajectory, tracking the journey of a lifelong almost-was from meteoric rise all the way to his precipitous plunge into the hellish pit of his own making. In that sense, the series has only the ending of a single story – which began practically without ceremony over five years ago – to worry about.
---