'Breaking Bad' recap: The newest episode looks at characters who relapse into past behaviors
(Read article summary)
'Breaking Bad' stars Bryan Cranston and Aaron Paul. 'Breaking Bad' airs on AMC.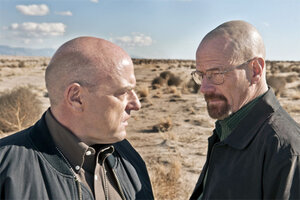 Frank Ockenfels/AMC/AP
If there's one thing Breaking Bad and the White family has mastered, it's the subtle art of the painfully awkward, excruciatingly tense family dinner. Whether it is Walt and Skyler sitting angrily across the table from one another while Jesse tries in vein to cut the tension by commenting on just how delicious the store-bought green beans are, or a nerve-racking birthday morning where Junior insists his mother mark the occasion by forming a 51 on his father's plate with bacon – which results in Walt commenting on the merits of "sacrifice" and "Family teamwork."
Unsurprisingly, things aren't much different when Walt and Skyler ask Hank and Marie to meet them at a local Mexican restaurant to, you know, discuss the whole Heisenberg thing and maybe clarify any recent suggestions that certain DEA agents should "tread lightly" over a bowl of freshly prepared guacamole and a pitcher of ice-cold margaritas. Naturally, given the Whites' penchant for making a little time around the table wind up being as solemn as a funeral, things don't go too well, as Marie continually insists that Junior come live at Schraderhaus and Hank tells his brother-in-law that being a man means coming clean about his wrongdoings, cancer or no cancer.
---