James Spader will play villain Ultron in the new 'Avengers' movie
(Read article summary)
James Spader has been cast as the villain Ultron in the sequel 'The Avengers: Age of Ultron.' James Spader is also starring in the TV show 'The Blacklist.'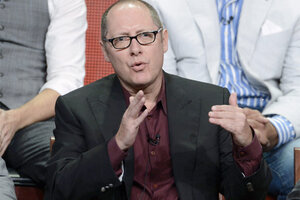 Phil McCarten/Reuters
At San Diego Comic-Con, Marvel Studios came prepared with buzzworthy news and footage to share, but it was the end of their presentation that delivered the biggest surprise. The Avengers writer and director Joss Whedon took to the stage to unveil a teaser and the official logo for the highly anticipated sequel to his record-breaking superhero team-up and few in the audience were expecting it.
What was shown preceding The Avengers: Age of Ultron title card was footage of an Iron Man armored suit transforming into Ultron, the villainous robot and one of Earth's Mightiest's greatest foes. Little did we know that the voice and face of that character would be James Spader.
The man who played Dr. Daniel Jackson in the original Stargate film and more recently had a starring role in the latter seasons of The Office, also having worked with Disney in Steven Spielberg's Oscar nominated Lincoln, is going to play the primary antagonist of The Avengers: Age of Ultron.
The news comes directly from Marvel who are continuing to embrace a trend of utilizing their own brand to promote internal news and the official casting is the second for The Avengers sequel having happily confirmed that Robert Downey Jr. had signed for both currently-planned Avengers sequels a few months earlier.
---