'Transformers 4': Check out the new title and hints about the movie's new characters
(Read article summary)
'Transformers 4' recently got a full title and a hint from the producer about new characters in the film.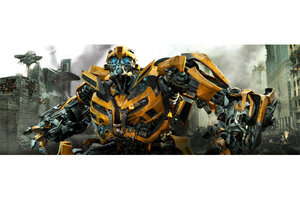 Courtesy of Paramount Pictures/AP
[UPDATE: It's Official - Prepare for Transformers: Age of Extinction!!!!]
Transformers 4 has been surrounded in secrecy during its production. Director Michael Bay returned to the franchise in order to launch a new (semi-rebooting) chapter of the Transformers saga, which he will then (allegedly) pass off to a new director and creative team. So far we have new human characters in the form of Mark Wahlberg's gear-head/inventor character, Flynn Vincent; Flynn's hot rod enthusiast daughter played by Nicola Peltz (Bates Motel) and her speed-racing love interest played by Jack Reynor (What Richard Did). We also know that in addition to returning favorites like Optimus Prime and Bumblebee, the actual Transformers might see new additions like Slingshot and Drift, Hound – possibly even Nemesis Prime or Ultra Magnus.
But what about those lingering rumors that the fan-favorite Dinobots could be in TF4 - and what is the official subtitle to this fourth film? Today's update may help answer questions on both those fronts.
---