'Ozymandias' recap: The newest 'Breaking Bad' episode finds many main characters in trouble
(Read article summary)
'Ozymandias,' the newest 'Breaking Bad' episode, has much of the violence happening offscreen, but it's no less affecting. 'Ozymandias' is one of the last episodes of the 'Breaking Bad' TV series.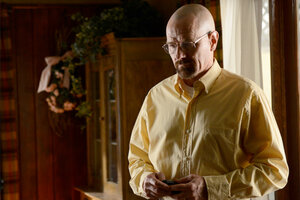 Ursula Coyote/AMC/AP
When people seem more concerned with interpreting the increasingly cryptic previews for the next episode of any show, it's a pretty good indication that the prior installment ended with some kind of incredible cliffhanger. Of course, when it comes to Breaking Bad, that has to do with last week's superb 'To'hajiilee,' which ended midway through a gunfight that found Hank and Gomez horrendously outgunned, and definitely outnumbered in the psychopath department.
There's a moment after the inevitable happens with Hank that finds Walt looking back in his rearview mirror and he sees nothing; there's no evidence of what just transpired. It's reflective of the way that director Rian Johnson composed 'Ozymandias' around Moira Walley-Beckett's superb script, in how so much of the brutality that's perpetrated throughout the episode, from the deaths of Hank and Gomez, to Jesse's torture, to Skyler pulling Walt Jr. into her office to confess her crimes and the crimes of his father, occurs off-screen.
All the truly gruesome and visceral violence is ostensibly left on the cutting room floor; major scenes, like the episode itself, begin in medias res, a tactic that constantly leaves the audience gasping for breath and trying to keep pace, rather than waiting for events to play out. In essence, Vince Gilligan and his Breaking Bad crew have already set up all their shots, and now it's time to take them.
---