'Walking Dead' spinoff: AMC announces the program will debut in 2015
(Read article summary)
The 'Walking Dead' spin-off will include the original show's creators and producers. Here's what we know so far about the 'Walking Dead' spin-off.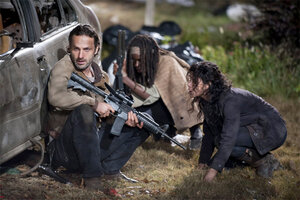 Gene Page/AMC/AP
Entertainment brands are no longer being built lengthwise – they're being built widthwise. In a post-Avengers world, extending a franchise through sequels, prequels, interquels or other time-bending techniques isn't sufficient; audiences of today want unique worlds to fully immerse themselves in – the bigger, the better.
Marvel superheroes and their universe have given rise to expansion plans for the DC Superhero, Star Wars and Harry Potter universes – even television has been following the strategy, with AMC widening their Breaking Bad franchise into the Better Call Saul spinoff series; and now more world will be added to the network's flagship series, The Walking Dead.

AMC made the announcement that it will produce a Walking Dead companion series with a 2015 air date in mind; serving on the show as executive producers are Walking Dead creator Robert Kirkman and show producers Glae Anne Hurd and David Alpert.
Kirkman had the following to say about the new show (of which details are scant at the moment):
"After 10 years of writing the comic book series and being so close to the debut of our fourth, and in my opinion, best season of the TV series, I couldn't be more thrilled about getting the chance to create a new corner of 'The Walking Dead' universe," said Kirkman. "The opportunity to make a show that isn't tethered by the events of the comic book, and is truly a blank page, has set my creativity racing."
---