'Romeo and Juliet': Let's try another Shakespeare play at the movies
(Read article summary)
The recent film version of 'Romeo and Juliet' as well as the new Broadway adaptation have both received middling to negative reviews. It's time to search elsewhere for a Bard play to adapt.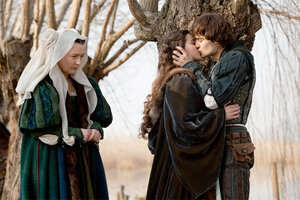 Philippe Antonello/Relativity Media/AP
The story of two star-crossed lovers seems to be everywhere at the moment, with a new film version adapted by "Downton Abbey" creator Julian Fellowes opening this week, a Broadway version of the show starring Orlando Bloom having opened Sept. 19, and an off-Broadway incarnation starring Elizabeth Olsen set for an Oct. 16 opening.
Just about every person who passed through freshman year of American high school knows the story of "Romeo and Juliet." Warring families, two teenagers meet at a party, missed messages, poison, dagger, curtain.
And isn't that kind of the problem by now? Movie adaptations of the play have been inexhaustible, to say nothing of the stage versions. The most remembered film adaptation today may be the 1968 movie starring Leonard Whiting and Olivia Hussey (which also seems to be the version everyone watches freshman year of high school), which was directed by prolific Shakespeare helmer Franco Zeffirelli. That version is a good one and it's one of the last movies to adapt the story traditionally.
Besides that, movies adapting Shakespeare's play around that time and after seemed to need some kind of gimmick. The 1961 film version of "West Side Story," which is of course an updated, musical version of "Romeo and Juliet," set the action in 1950s New York and cast the two warring families as gangs, one American and one Puerto Rican, fighting over turf. The characters followed the beats of Shakespeare's story, mostly, but spoke in present-day language. (The musical and movie are, of course, both brilliant.)
When "Great Gatsby" director Baz Luhrmann took on the story for his 1996 movie, he called it by Shakespeare's title – well, kind of; he added a "+" between "Romeo and "Juliet" to make it cool for the kids – and set the action in what was then the present day, late '90s California. The actors wore Hawaiian shirts but spoke in Shakespeare's original words.
---