Ben Affleck will reportedly star in and direct geopolitical thriller set in Africa
(Read article summary)
Ben Affleck's newest project is reportedly an Africa-set thriller in which he will direct and star. Ben Affleck is also starring in the film adaptation of 'Gone Girl' and will play Batman in an upcoming movie.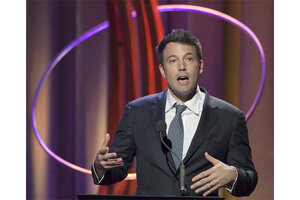 Carlo Allegri/Reuters
With all the endless discussion and debates about Ben Affleck signing on to play Caped Crusader in the upcoming Man of Steel sequel, Batman vs. Superman (not the official title), the fact that Affleck is also coming off headlining and directing a Best Picture Oscar-winning film (with the historical drama/thriller Argo) has ended up being pushed to the side. (Such is the power of DC superheroes.)
Fortunately, the actor – who also has an Oscar for co-writing Good Will Hunting – has got a couple of projects in the works, to take his mind off the pressure of playing Bruce Wayne. Affleck is currently starring in David Fincher's Gone Girl novel adaptation and will begin working on Batman vs. Superman in early 2014. After that, he should be able to start working on his next directing/starring vehicle, Live By Night - adapted from the historical crime drama book written by Dennis Lehane (Gone Baby Gone, Shutter Island) – and, possibly thereafter, get to shooting his planned Whitey Bulger biopic, starring BFF Matt Damon.
---