Channing Tatum: Will he take on a role in the 'X-Men' franchise?
(Read article summary)
Will Channing Tatum take on a role in the 'X-Men' films? Channing Tatum recently expressed an interest in playing one of the characters, though the role was already cast in a previous movie.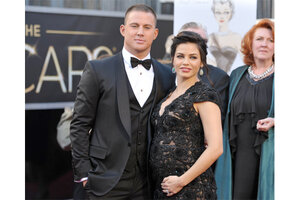 John Shearer/Invision/AP
The X-Men film franchise may be entering its teenage years, but Marvel's mutant roster has never been hotter. This summer's The Wolverine (more or less) made up for the disappointing entry that was X-Men Origins: Wolverine and essentially jumpstarted buzz for next year's X-Men: Days of Future Past.
Beyond that film, the future of the X-Men franchise is a bit more uncertain. Fox seems keen on pushing an X-Force film (written by Kick-Ass 2 writer/director Jeff Wadlow) out next, though what shape or form that project will take remains to be seen. The X-Men universe has such a rich array of characters that it has already introduced on the big screen, and given the limitless possibilities, any of those could potentially return in a future film. Now, one star has spoken out about which character he'd like to play.
According to Slash Film, Channing Tatum mentioned at a recent press event that he wants to bring Cajun mutant Gambit to life on the big screen. Here's what the White House Down and Magic Mike star had to say:
"I would like to play Gambit. Gambit's my favorite. I'm from New Orleans, around that area. My dad's from New Orleans, and I like to do a Cajun accent. I could do it for real. No knock on Taylor Kitsch [who played the character in 'X-Men Origins: Wolverine'], though, 'cause I actually like his Gambit, but I've always lived around Cajun people. [...] Gambit was always like the woman-loving, cigarette-smoking, drinking [guy]. He was the punk rock of all the superheroes. He's a thief. He kind of rode the line."
---