'Sons of Anarchy' season finale review: Another character meets a shocking end
(Read article summary)
The 'Sons of Anarchy' finale for season six included the shocking death of one of the main characters. What happened during the 'Sons of Anarchy' season six finale?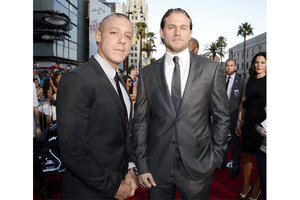 Dan Steinberg/Invision/AP
Because of certain storylines in the past, Sons of Anarchy has developed something of a reputation for building up to a big inevitable moment, only to turn away from it, as if delaying the action would somehow enhance the drama of it all. But season 6 has been different, largely because, over the course of several gratuitously overlong episodes, the trend in the series seems to have shifted toward a desire to hit as many big moments as possible, without really developing a deep sense of why they were inevitable. The result of that has been a season padded with great deal of filler, without enough of it connecting to the climactic character moments for them to carry much weight or purpose beyond the initial rush of shocking violence being perpetrated on a familiar character.
Unlike the sudden death of Clay in 'Aon Rud Persanata,' there was a hint that something unpleasant was going to happen to Tara for much of the season. And while the event was handled in a way that was indeed shocking, and brought Tara's lengthy, quarrelsome, and frequently-aggressive relationship with Gemma to a bloody and gruesome end, it was accompanied by the overwhelming feeling that any sense of tragedy stemming from the event was entirely superficial. That's not to say Tara's murder wasn't tragic; it was, but it was tragic for all the wrong reasons. Rather than have her death really mean something powerful beyond adding to the misery and suffering Jax and the other characters of Sons of Anarchy must seemingly endure, it just wound up being a bit of dramatic irony that highlighted Gemma's too frequent bouts of violence and jumping to conclusions that simply weren't true. Carrying out the death sentence of a major character on the foundation of something as flimsy as that makes the whole thing reek of insincerity, which was only compounded by the feeling that most of the characters had to suddenly drop a few precious IQ points to allow the complicated series of events to play out as they did.
---