Demi Moore film 'Ghost' may be adapted as a TV show
(Read article summary)
The Demi Moore and Patrick Swayze film 'Ghost' will reportedly be adapted as a pilot for a TV show by 'Fringe' writers Akiva Goldsman and Jeff Pinkner. No word on whether Demi Moore would appear on the series.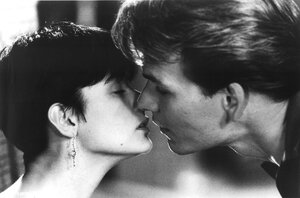 Reuters
The classic supernatural romance movie Ghost left behind a legacy that includes floods of tears and endless parodies of that "Unchained Melody" pottery scene. Despite its chick-flick stigma, Ghost is a extremely memorable movie that struck just the right balance between Sam Wheat's (Patrick Swayze) comedic banter with psychic Oda Mae Brown (Whoopi Goldberg) and his romance with Molly (Demi Moore), which is tragically cut short after his demise at the hands of a mugger.
With a movie as perennially popular as Ghost, an eventual remake seemed more or less inevitable, especially since the original movie remains the second highest-grossing romantic drama of all time, beaten out of the top spot only by Titanic. Currently, however, the most popular home for ghosts, ghouls, vampires, werewolves, witches and all other breeds of supernatural creatures is on TV rather than in movies, with shows like The Walking Dead, Teen Wolf and American Horror Storydominating the airwaves.
With that in mind, it's not too surprising that Ghost is apparently now headed to the small screen. THR reportsat th Oscar-winning writer/director Akiva Goldsman (A Beautiful Mind) and veteran TV writer Jeff Pinkner (Alias) have been tapped by Paramount TV to co-write a pilot for a TV series based on Ghost. Pinkner and Goldsman have previously worked together as both producers and writers on the Fox sci-fi dramaFringe.
---