Anna Paquin's part was cut from upcoming 'X-Men' film, says director
(Read article summary)
Anna Paquin's scene was cut from the movie 'X-Men: Days of Future Past,' said director Bryan Singer. Anna Paquin stars as Rogue in the film series.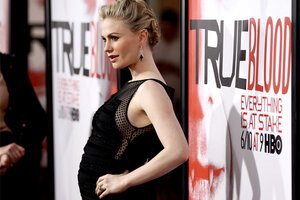 Matt Sayles/Invision/AP
It was back in January when X-Men: Days of Future Past director Bryan Singer revealed that the growing cast of the X-Men: First Class sequel would also see the return of familiar faces Iceman, Kitty Pryde and Rogue, played by Shawn Ashmore, Ellen Page and Anna Paquin, respectively. They, along with most of the franchise staples from the original X-Men movie trilogy return for the sections of the Days of Future Past story that take place in a post-apocalyptic future – in an alternate timeline.
With so many mutant characters vying for screen time in the ensemble(s), we knew many major characters from Marvel Comics wouldn't get much to do, especially with star Hugh Jackman describing the project as three movies in one. It's so packed in fact, that at least one of the major characters won't even make it into the theatrical version of the film.
EW spoke with Bryan Singer who confirmed that Anna Paquin's scenes as the X-Men character Rogue had to be cut.
"Through the editing process, the sequence became extraneous. It's a really good sequence and it will probably end up on the DVD so people can see it. But like many things in the editing process, it was an embarrassment of riches and it was just one of the things that had to go. Unfortunately, it was the one and only sequence Anna Paquin was in, the Rogue character was in. Even though she's in the materials and part of the process of making the film, she won't appear in it."
Singer continued, explaining that the decision to remove Rogue from the theatrical cut entirely had nothing to do with Paquin's performance.
---