Cate Blanchett will play a dragon protector in 'How to Train Your Dragon 2,' says director
(Read article summary)
Cate Blanchett's character in the animated movie will be a woman who has lived with animals so long that she has become like a dragon herself, says director Dean DeBlois. The role was written with Cate Blanchett in mind, according to DeBlois.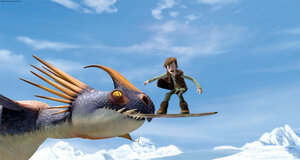 Paramount Pictures/PR Newswire
For those who still hadn't quite figured out how to train their dragons by the end of 2010′s animated instructional video How to Train Your Dragon, help is at hand with the upcoming sequel How to Train Your Dragon 2. Picking up five years after Hiccup, the heir to the throne of Berk, created peace between humans and dragons in his village, the sequel follows the further adventures of Hiccup as he and Toothless take to the air and go exploring.
In addition to the returning cast – including Jay Baruchel as Hiccup, Gerard Butler as Stoick the Vast and Kristen Wiig as Ruffnut – How to Train Your Dragon 2 also stars some new voices, including Djimon Hounsou (Guardians of the Galaxy) as a dragon hunter, Drago Bludvist, and Oscar-winner Cate Blanchett (Blue Jasmine) as a dragon protector, Valka.
An interview with writer and director Dean DeBlois in USA Today has spilt some more details on Blanchett's character, starting with the fact that Valka was written specifically with Blanchett in mind. Valka is to the dragons what Dian Fossey was to gorillas: working as a vigilante who frees them from traps and helps them to hide from mankind.
---