'American Horror Story: Coven': Was the season a success?
(Read article summary)
'American Horror Story' aired the conclusion to its third season on Jan. 29. Did 'American Horror Story' accomplish its storytelling goals?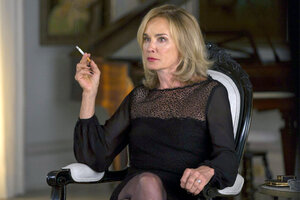 FX/AP
If the past two seasons are anything to go by, the likelihood of there being some out-of-left-field revelation to wrap up the surprisingly unfussy and yet still imprecise season of American Horror Story: Coven seemed pretty high. That says a great deal about the horror anthology that Ryan Murphy and Brad Falchuk have created. Even after twelve episodes of Coven and its specific differences from season 1 and Asylum, the expectations for mind-bending lunacy are about as strong as the expectation for lax adherence to the already slipshod set of conventions the third season used to define its horror niche.
And yet, unlike the previous two seasons, Coven had been imparted with a specific goal, a clear destination for the narrative and its characters to arrive at come the season finale. This straightforward approach had its advantages and disadvantages in terms of how the story of Miss Robichaux's Academy and its ever-dwindling student base would conclude. For one thing, this idea of there being a road map or particular destination in mind gave the season a much-needed sense of urgency and a prescribed finality to the plot – which, in and of itself, actually felt like a new approach to the series.
Conversely, that destination wound up feeling like a limitation on the expansiveness of the journey between point A and point B. Once it was established that Jessica Lange's Fiona Goode would be losing her witch-y powers and her life so that a new supreme could rise and take hold of the coven she so selfishly allowed to weaken and decline into near ruin, the middle points of the season (i.e., episodes 2-12, with some exceptions, of course) were shackled by the very end the series was headed toward.
---