'Family is everything'
An Alabama couple adopted 12 children, nine of whom have special needs.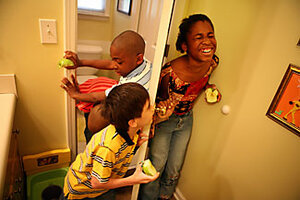 Melanie Stetson Freeman
Beverly and Sam Gardner never thought they'd have 16 kids. But after their four biological children were born, they started adopting – and couldn't stop. Eventually, 12 more children were added to the family. Each one has a story.
"Chip [now 10] was 6 months old when we got him. He'd been put in a book bag, zipped up, and put in the trash," Bev says, explaining the early days of one of her children. He was rescued after the house where he lived caught fire and one of the firemen discovered him in the garbage behind the house.
"Johnny [now 12] was 3-1/2 months early because of his mother's drug abuse. She basically abandoned him in the hospital," Bev continues.
The Gardners adopted Johnny, who can't see and had been diagnosed with cerebral palsy, despite warnings from doctors that he might be a "vegetable."
"He definitely is not!" his mother says.
The Gardners' adopted children are black, white, Latina, and biracial. Nine of them have special needs. None of that bothered the Gardners. Neither did predicted problems.
"Once you fall in love with a child, that's your child, and all the fear just goes away," Bev says. "Once we heard the terrible stories, we couldn't say no."
Bev and Sam both come from big families. After three of their biological children arrived prematurely, the couple decided that since they wanted more, they would adopt. They are Caucasian, but were happy to adopt black or biracial children, who are harder to place.
After the Gardners' first two adoptions, they came into contact with state organizations that help find homes for at-risk children. After hearing the stories about these children, the Gardners became foster parents, caring for more than a hundred special-needs children for periods as short as a couple hours to as long as a few years.
---