Military families missing organizations ready to help them
Families who have a member serving in Iraq or Afghanistan often need help around the house. Volunteers are often willing to provide the assistance. But it's hard for the two groups to connect.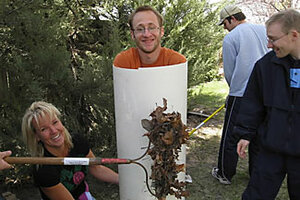 Courtesy of GreenCare for Troops, Project EverGreen
Theresa Downing would love to hear her husband grumble about cutting the grass, but the Army reservist is in Iraq, so the lawn is entirely her responsibility, as are parenting, renovations, and bills.
But recently, Ms. Downing got help with her Lakeland, Fla., yard. Through GreenCare for Troops, she was paired with a landscaper who maintains her yard for free.
"GreenCare for Troops is a godsend," Downing says of the nonprofit program linking lawn-care volunteers with families of deployed troops. "It's the only service for military families I [have] utilized."
Families of those serving in Afghanistan and Iraq often experience economic challenges, social isolation, and confusion over how to locate needed support.
"I don't know what's out there and where to look," she says. "It's truly a concern."
Meanwhile, many organizations providing home-maintenance help report that they're clamoring for military families to serve – and failing to find them.
The mismatch highlights how families can fall through the cracks when a spouse is deployed, and how service providers are becoming as focused on outreach as they are dedicated to helping.
The Red Cross estimates that some 3.9 million families have been affected by a deployment.
---