First the marriage, then the courtship
Arranged marriages have moved beyond their traditional base and are becoming a small but growing trend in the US.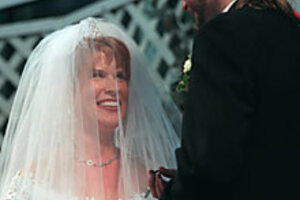 Courtesy of Judy Griesedieck/Minneapolis Star Tribune/File
Whisper the words "arranged marriage," and images of women signed over as chattel are likely to rise in the minds of many Westerners. But, say culture watchers and sociologists, there's a rising interest in this age-old practice in the West, as shown by at least two books and three upcoming television series on the topic – as well as a growing number of matchmaking sites devoted solely to arranging unions.
More important, couples with no cultural or family tradition of arranged marriages are entering into matrimony with proper strangers in what is being called a "turbo-charged back to the future."
While the number of nuptials consummated in this way is still small, there's evidence that some of the principles of these traditional pacts are drawing attention and respect from both scholars and singles who are anxious to move into a married state.
"In this Internet age, we have so many options we want people to narrow them down for us," says futurist Marian Saltzman, chief marketing officer at Porter Novelli in New York, who calls arranged marriages one of the "developing trends of the moment."
Internet dating has exhausted many people, she adds, suggesting that if online courtship is the yin of modern relationships, then arranged marriages are the yang. "People are saying to themselves, 'I'm tired of a whole bunch of cheap Hershey bars. I want gourmet chocolate and a connoisseur to tell me which of the top two brands I should choose.' "
But, she points out, arranged marriages in countries such as the United States are "not the old routine of dads selling daughters for a dowry; these kids have veto power."
---