All the family under one roof
The multi-generational family is making a comeback.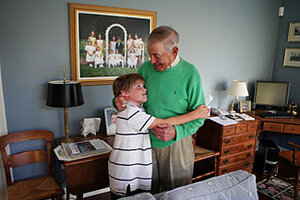 Melanie Stetson Freeman/The Christian Science Monitor
As a new widower, Tim Spatola faced a crucial decision: where to live. His house was too big; a retirement community held little appeal and was also expensive. So when his daughter and son-in-law invited him to move in with them and their six children, he gratefully accepted. He paid for an addition to their house and joined them in June.
"I'm very, very happy with it," says Mr. Spatola of Milton, Mass. "We have an excellent arrangement."
His daughter, Mary McCourt, adds, "He's very independent. It's working well."
Move over, adult children. The multi-generation household is making a comeback as Mom, Dad, kids, and grandparents live under one roof. The number of parents age 65 and older moving in with adult children increased by 62 percent between 2000 and 2007, the Census Bureau reports. Those under 65 who did so grew by 75 percent.
For some families, like Spatola's, the arrangement is a matter of choice. Others are driven together by high housing costs and economic need. In still other cases, caregiving is the motivating factor. Whatever the circumstances, the dynamics can be complex.
"Families have to think very carefully when they're considering an intergenerational household," says Allen Hager, president of Right at Home in Omaha, Neb., a network of agencies providing in-home assistance to seniors. "I've seen a lot of conflict in families. Women are taking on [most] of the household, child-rearing, and senior care."
---