Homemade for the holidays
Instead of buying last-minute Christmas gifts, make them and create memories at the same time.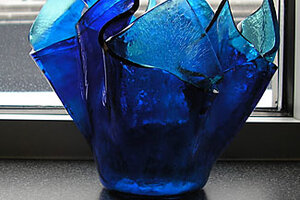 Courtesy of Linda Tetzloff
This year, as Linda Tetzloff marks off gifts on her Christmas list, she heads for the kiln, not the store. She's making fused-glass bowls for friends and a dragon with stained-glass wings for her son.
Handmade gifts have been a tradition among her circle of friends for years, explains the executive assistant from Kalamazoo, Mich. The reasons aren't necessarily financial (although that's certainly a side benefit). Ms. Tetzloff says the creativity and the colored glass help see her through months of frigid temperatures and lake-effect snow.
But this year, with daily reports of layoffs and the country heading into a second year of recession, 1 out of 6 Americans decided to dust off their craft skills and see if the Grinch was right: "Maybe Christmas doesn't come from a store."
That doesn't surprise Judith Myers-Walls, a professor of child development and family studies at Purdue University in West Lafayette, Ind.
"I think everyone's going to wake up to this a little more," she says. "When you think back to the origins of the holidays, we're not talking extravagance or going broke to give someone a gift. We're talking about generosity and sharing with others and seeing what would please others."
But what, you may be wondering, if your handicraft skills don't extend past the glitter macaroni sculpture you made in second grade?
---