Grandparents answer a call
More are relocating to live closer to their adult children and grandchildren.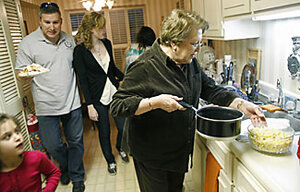 j. michael short/special to the christian science monitor
As a third-generation native of Brownsville, Texas, Mildred Garza never planned to move away. Even when her daughter and son, both divorced, asked her to relocate to San Antonio to help with their children, she politely refused.
"My mother loves small towns and hates change," explains her daughter, Lisa Marie Gomez. Only after a year of friendly persuasion did Ms. Garza finally say yes.
That was four years ago. Today all three generations hail the move as a success, giving them a closer relationship than they would have had in separate cities.
"The children adore her, and she adores them," Ms. Gomez says.
No statistics track the number of grandparents like Garza who are pulling up stakes and moving closer to adult children and grandchildren. Yet anecdotal evidence suggests that the trend, while still modest, is growing.
Even President Obama's mother-in-law, Marian Robinson, has agreed to leave Chicago and move into the White House to help care for her granddaughters, Malia and Sasha.
In a poll released last week by Grandparents.com, 83 percent of respondents said Mrs. Robinson's high-profile relocation will redefine the importance of grandparents in the American family. Two-thirds believe more families will follow the Obamas' expanded family structure.
---