The Eat, Pray, Love effect: How families decide to just do it
Part 2 of a Monitor cover story about how families hit by the Eat, Pray, Love effect just do it, pulling up stakes to leave it all behind and embark on extended global global travel.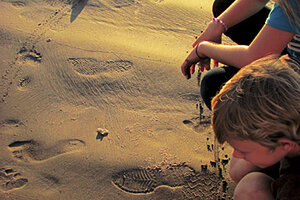 Courtesy of the Brown Family
Fantasizing about leaving everything and traveling Eat, Pray, Love style – as writer Elizabeth Gilbert documented in her best-selling memoir – is one thing; to just do it is another. When the Jenss family, from New York, first began planning their extended travel, they thought of a thousand reasons they shouldn't pull up stakes and take the kids on the road. Then, says Rainer Jenss, who was an executive at National Geographic Kids at the time, came a defining moment: "We stopped looking at traveling as a crazy fantasy, or from the perspective of risk, of what we had to lose – like careers, house, friends – and began looking at what we could gain, at all the benefits."
Others make plans but never follow through. Betsy and Warren Talbot – she a business consultant and he involved in long-term strategy for Microsoft – were dining with a couple of good friends in 2008 when discussion turned to a brother and a close friend who'd developed serious health problems out of the blue.
Betsy, recalls the question that the couples asked each other that night back in Seattle: " 'What if you knew you wouldn't make it to your 60s? What would you do now?' And the answer for all of us was, 'travel.' "
---