The Eat, Pray, Love effect: How families finance adventure travel
Part 4 of a Monitor cover story about how families hit by the Eat Pray Love effect finance adventure travel – selling the house, taking the kids out of school and hitting the road.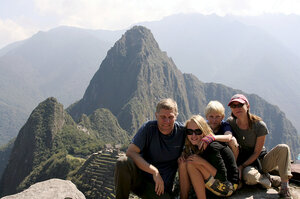 Courtesy of the James Family
Planning extended adventure travel is a complex equation of time and money and "it's easier to do if you have money, no question," says writer David Elliot Cohen who took a year off with his wife and three kids in 1996 and wrote "One Year Off: Leaving It All Behind for a Round-the-World Journey with Our Children." "If you're just living paycheck to paycheck, you haven't saved for your kids' college, haven't thought much about your retirement savings, this may not be for you."
But many hit by the Eat, Pray, Love effect – as sparked by Elizabeth Gilbert's best-selling memoir – will get extraordinarily disciplined to accomplish their extended adventure travel dream.
For four years, Rainer and Carol Jenss, of Nyack, N.Y., planned their trip, saving as much of Carol's salary as possible and reaching their goal of $150,000. "The planning can seem overwhelming, but it was also really fun," says Rainer, who left his job as an executive at National Geographic Kids in 2008 to travel for a year with Carol and their two sons, 8 and 11 at the time. "You have this world map and you're thinking, 'Where do I want to go?' "
Dee and Scott Andrews sold their house and lived off the equity. Scott continued to manage his high-tech business – making a one-week trip back every quarter – and earning a part-time salary.
---