The Eat, Pray, Love effect: Why families leave it all behind
Part 3 of a Monitor cover story about how families hit by the Eat Pray Love effect leave it all behind – selling the house, taking the kids out of school and embarking on extended global travel.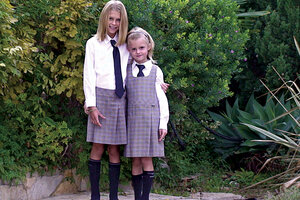 Courtesy of the Andrews Family
Dee Andrews wanted to "shake things up a bit" in her suburban life. A stay-at-home mom in Boulder, Colo., she may not have seemed like the type who would care to take the risks that extended-travel – Eat, Pray, Love family style – and leave it all behind.
But her sentiments are not unlike those of a growing number of families who are pulling up stakes – not to mention, pulling the kids out of school – to travel the world as a family. A variety of reasons are behind the decision to take off - work stress, desire to be closer as a family, curiosity, desire to learn a new language.
Dee and her husband. Scott, were bored living a comfortable, middle-class life, she says. So they decided to decamp for Europe in 2008. Dee was home with their two daughters, Grace and Emma, who were 5 and 8 at the time. Scott was chief executive officer of a high-tech, venture-backed company, working long hours.
"It was a stressful time in my husband's life, and there was the monotony of the job and of our life in Boulder. We just needed a change from the routines into which our lives had fallen," says Dee, who wanted to let go of PTA meetings, soccer practices, and volunteering at school, and "shake things up a bit."
---