Cohabitation before marriage? It's no greater divorce risk.
New divorce and marriage research shows that contrary to popular wisdom, cohabitation before marriage carries no extra risk of divorce - at least not when a couple plans to get married.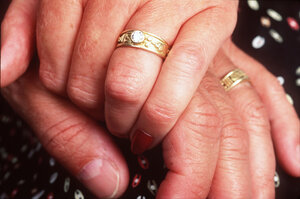 Ari Denison / The Christian Science Monitor
Nearly half of first marriages break up within 20 years, a new government study finds. With those odds, you might wonder: Would we be better off living together first?
The new research, part of a marriage survey of 22,000 men and women, suggests times have changed from the days when cohabitation before marriage signaled higher chances for divorce later.
"It's not playing as big a role in predicting divorce as it used to," said Casey Copen, lead author of the study "First Marriages in the United States: Data From the 2006–2010 National Survey of Family Growth."
Living together before marriage has been a steady, growing trend.
In the late 1960s, only about 10 percent of American couples moved in together first, and they ended up with higher divorce rates.
Today, about 60 percent of couples live together before they first marry.
"It's becoming so common, it's not surprising it no longer negatively affects marital stability," said Wendy Manning, co-director of the National Center for Family & Marriage Research at Bowling Green State University in Ohio.
Researchers with the Centers for Disease Control and Prevention looked for trends in first marriages. They interviewed men and women ages 15 to 44 during the years 2006 to 2010. About 40 percent were married.
---