D.C. unveils plan to prevent bullying, screens new film 'Bully'
D.C. mayor announces a citywide plan to prevent bullying tied to the new documentary 'Bully.' The movie was downgraded from an R to a PG-13 rating to make it more accessible for its target audience: children.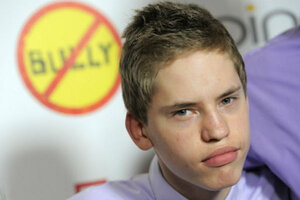 Chris Pizzello/AP
District of Columbia Mayor Vincent Gray is announcing a citywide plan to deal with bullying.
The mayor plans to announce a four-step plan Wednesday evening ahead of a scheduled private screening of the new documentary "Bully."
The steps include the formation of a 14-member task force, including schools Chancellor Kaya Henderson and Police Chief Cathy Lanier; a new research report; creating a model policy; and holding a forum on bullying for D.C. agencies.
The Weinstein Co. said Thursday an edited version of "Bully" will be released across the U.S. on April 13 with a PG-13 rating.
The Motion Picture Association of America initially gave the film an R rating for language, meaning kids under 17 were restricted from seeing it without an accompanying adult.
The MPAA declined to change the rating when The Weinstein Co. appealed. The company released the film March 30 in limited release without a rating.
"Bully," directed by Lee Hirsch, is an examination of school bullying that follows five kids over the course of a school year.
The Weinstein Co. said three uses of an expletive were removed to earn the PG-13 rating.
---