Kindergartner handcuff case: Do we need police in schools?
The handcuff case of a Georgia kindergartner who threw a tantrum renews national debate about police in schools.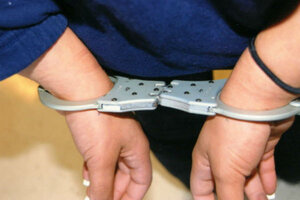 AP
A New Mexico teacher asked a 13-year-old girl to stop talking with her friend and move to another seat. The girl refused. The teacher called the police.
The case is among thousands across the country fueling a long-simmering debate over when educators should bring in the police to deal with disruptive students. A 6-year-old Georgia kindergartner became the latest test case last week when she was hauled off in steel handcuffs after throwing books and toys in a school tantrum.
"Kids are being arrested for being kids," said Shannon Kennedy, a civil rights attorney who has filed a class-action lawsuit against Albuquerque's public school district and its police department on behalf of hundreds of kids arrested for minor offenses over the past few years, including having cellphones in class, destroying a history book and inflating a condom.
Civil rights advocates and criminal justice experts say frustrated teachers and principals are calling in the police too often to deal with the most minor disturbances. But other teachers say a police presence that has grown in response to zero tolerance policies of the 1990s and tragedies like the Columbine High massacre is needed to keep teachers and well-behaved students safe.
From sexual harassment in elementary and middle school to children throwing furniture, "there is more chronic and extreme disrespect, disinterest and kids who basically don't care," said Ellen Bernstein, president of the Albuquerque teacher's union.
---