Parents support limits on junk food in school vending machines
As the number of children classified as obese continues to grow, the US government is planning possible new limits on junk food sold in school vending machines, a move most parents support according to a new poll.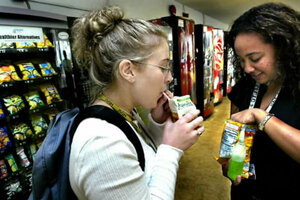 J. Albert Diaz / Miami Herald / AP
Junk food may soon be hard to buy at American public schools as the US government readies new rules requiring healthier foods to be sold beyond the cafeteria – a move most parents support, according to a poll released on Thursday.
With childhood obesity rising, the survey found most people agreed the chips, soda, and candy bars students buy from vending machines or school stores in addition to breakfast and lunch are not nutritious, and they support a national standard for foods sold at schools.
The findings from the advocacy group Kids' Safe and Healthful Foods Project came as the federal government prepares to roll out a nationwide standard that may set up another battle among health experts, schools and the food industry.
The U.S. Department of Agriculture is expected to issue its guidelines by June, according to some experts. These could limit the amount of sugar, salt and fat foods sold at schools could contain.
Agriculture Department Under Secretary Kevin Concannon said an important step in addressing childhood obesity is to help make the "right choice an easy choice" while at school.
"We look forward to working with parents, teachers, school food service professionals, and the food industry to craft workable guidelines so that healthier options are available for our students," he said.
---