Five tips to unplug your kids, get them out into nature
Unplug your kids and get them out into nature this spring with these five tips. From chasing a lightning bug, to splashing through puddles, they'll have fun, and maybe even learn something about our planet.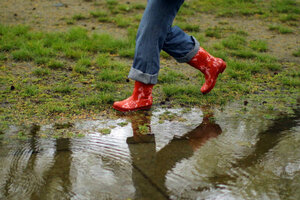 Brian Snyder/Reuters
"If a child is to keep alive his inborn sense of wonder, he needs the companionship of at least one adult who can share it, rediscovering with him the joy, excitement and mystery of the world we live in."
– Rachel Carson Silent Spring, 1962
As parents, we need to be the guides, the pied pipers and the role models extraordinaire when it comes to showing kids why they should be outside exploring nature rather than in the basement, on Xbox live, with their friends. While our children may know and learn much more than we do about the threats our planet faces, like global warming, their direct contact with nature is much less then was that of their parents, when they were kids.
As we live more "urban" lives today, and as technology plays a bigger part in our more limited free time, our "hands on relationship with nature" and that of our children's, has been reduced.
---