Jessica Simpson baby arrives, finally
Jessica Simpson baby arrives, signalling the end of the nine-month baby watch that has predictably captivated the entertainment and gossip industry. Simpson's baby, a girl, was born this morning, according to the pop star's publicist.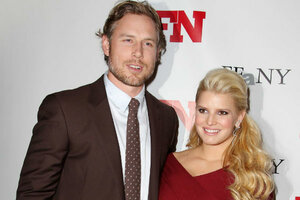 Amanda Schwab/Starpix/AP
The Jessica Simpson baby watch is finally over.
Simpson gave birth to a daughter named Maxwell Drew Johnson in Los Angeles on Tuesday, said publicist Lauren Auslander.
Maxwell weighed 9 lbs. 13 ounces.
Since announcing her pregnancy last Halloween over Twitter, Simpson posed nude for the cover of Elle magazine, shared her cravings like salted cantaloupe and pop tarts and joked about her excess of amniotic fluid on "Jimmy Kimmel Live."
Maxwell is the first child for 31-year-old Simpson and her 32-year-old fiance Eric Johnson, a former NFL player.
---