Painkiller addiction becoming more common in infants, study shows
Painkiller addiction is becoming more and more common in infants, according to a recently released study that shows that the number of US babies born with opiate drug withdrawal has tripled in the past decade.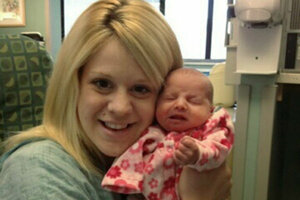 M. Spencer Green/AP
Less than a month old, Savannah Dannelley scrunches her tiny face into a scowl as a nurse gently squirts a dose of methadone into her mouth.
The infant is going through drug withdrawal and is being treated with the same narcotic prescribed for her mother to fight addiction to powerful prescription painkillers.
Disturbing new research says the number of U.S. babies born with signs of opiate drug withdrawal has tripled in a decade because of a surge in pregnant women's use of legal and illegal narcotics, including Vicodin, OxyContin and heroin, researchers say. It is the first national study of the problem.
The number of newborns with withdrawal symptoms increased from a little more than 1 per 1,000 babies sent home from the hospital in 2000 to more than 3 per 1,000 in 2009, the study found. More than 13,000 U.S. infants were affected in 2009, the researchers estimated.
The newborns include babies like Savannah, whose mother stopped abusing painkillers and switched to prescription methadone early in pregnancy, and those whose mothers are still abusing legal or illegal drugs.
Weaning infants from these drugs can take weeks or months and often requires a lengthy stay in intensive care units. Hospital charges for treating these newborns soared from $190 million to $720 million between 2000 and 2009, the study found.
---