The public library as community center: books, latte, yoga
The public library branches out with new ways to bring bodies to the stacks. Nationwide librarians are developing a community center model where visitors can do everything from drink their latte and do yoga, to speed dating and tax preparation – all while getting closer to books.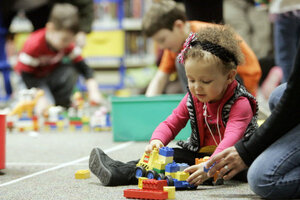 Bob Wellinski/The News Dispatch/AP
In the past month at a metro Atlanta public library you could have: listened to a barbershop quartet, taken a yoga or line dancing class, had a soda and a snack, received help preparing your taxes or homework, learned needlepoint, attended an open-mic poetry slam, gotten a mammogram screening, run your small business from a corner desk, learned how to give your newborn a massage or mastered the art of tai chi.
You could have also checked out a book.
Talk to librarians and administrators and inevitably the phrases "community living room" and "neutral space" come up. True, libraries have been both of those things for more than a century, but their primary mission is, and has always been, to be a warehouse of books, material and information.
Are you a Helicopter Parent? Take our quiz!
Yet many libraries across the country are moving toward a model that looks more like a community center than a living room, where you can take a Zumba class, fill out job applications, do speed dating and learn to use that e-reader you got for your birthday. In some, you can even order a latte.
---