International adoption rates plummet, domestic numbers rise
International adoption rates are plummeting because of a crackdown on baby-selling, tighter international regulation, an under-peformoming global economy, and backlash from various kidnapping scandals. Domestic adoptions – around the globe – are increasing.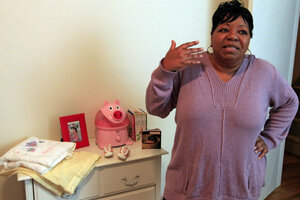 Frank Franklin II/AP
The number of international adoptions has plummeted to its lowest point in 15 years, a steep decline attributed largely to crackdowns against baby-selling, a sputtering world economy and efforts by countries to place more children with domestic families.
Globally, the number of orphans being adopted by foreign parents dropped from a high of 45,000 in 2004 to an estimated 25,000 last year, according to annual statistics compiled by Peter Selman, an expert on international adoptions at Britain's Newcastle University.
Some adoption advocates argue the decrease is also linked to a set of strict international guidelines known as the Hague Adoption Convention. Devised to ensure transparency and child protection following a rash of baby-selling and kidnapping scandals, critics say the guidelines have also been used by leading adopting nations, such as the US, as a pretext for freezing adoptions altogether from some countries that are out of compliance.
"It should have been a real step forward, but it's been used in a way that's made it a force for shutting down countries," says Elizabeth Bartholet, a Harvard Law professor who promotes international adoptions. "That affects thousands of children every year."
---