Doggy couch surfing website has in-home vacation lodging for dogs
Doggy couch surfing? Website has in-home lodging for dogs when their owners go on a vacation and don't want to coop their pooch up in kennel caging.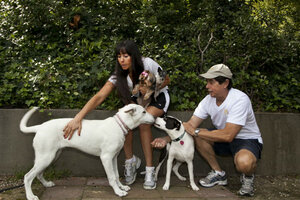 Damian Dovarganes/AP
When you travel and have to leave your dog behind, you can call a kennel, hire a pet sitter — or find him a new friend online.
The website DogVacay debuted in New York and Los Angeles in March and, just in time for the summer travel season, is now available throughout the United States and Canada.
The site lets pet owners look up hosts in the area who will care for a dog in their own homes, giving a pet the food, exercise and attention you would give if you stayed home — sort of a doggy version of couch-surfing, for an average price of $25 to $30 a day.
Related: Are you a Helicopter Parent? Take our quiz to find out!
Hosts are checked out and interviewed by DogVacay and every owner and dog is encouraged to meet the host.
The Santa Monica-based company was founded by Aaron and Karine Nissim Hirschhorn. In two months it has grown to over 4,000 hosts in two countries and from five employees to 13, Hirschhorn said.
Valerie Steiger's Shih Tzu mix named Joey was just 3 months old when she had to leave for a two-week Thailand trip in February. Joey has been back four or five times since, said Steiger, whose job as a life coach keeps her on the road.
---