Employment solutions: Can a town's good deeds lower unemployment?
The dollars and cents of good deeds: Communities with high social capital tend to have lower unemployment. Some seeking employment solutions see this altruistic glue as something to study.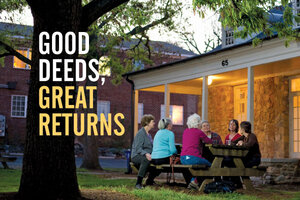 Ann Hermes/Staff
Long before anyone uttered the R-word, people in Chatham County, N.C., saw the economy starting to sputter. They noticed prices going up and incomes going down. So they fought back by taking care of each other.
Roxanne Hollander, a local chiropractor, has opened up a weekly sliding-scale clinic, offering massage, acupuncture, and chiropractic care for between $15 and $30, about a quarter of the usual fee.
Lee Pollard, a benevolent mad scientist, has donated close to 500 computers to needy kids and seniors, refurbishing old machines that people give him in the cheerful chaos of his computer repair shop. Somewhere under the mess on his desk, there's a card from a 4-year-old, written in crayon: "You're a very nice man. I love my computer."
At the traffic circle in downtown Pittsboro, the Chatham County seat, Tony Sullivan sells and repairs musical instruments. These days, people come by to sell their own instruments, not to buy any. His teaching income is drying up, too, because laid-off parents can't afford lessons for their kids. But Mr. Sullivan has continued to teach some of those kids free of charge.
"I'm a lousy businessman," Sullivan observes wryly. But there's more to it than that. "Everybody that comes in that door is more or less a friend, you know. These are all people from this little town, this area. They're my neighbors, and they're hurting. You want to help people out as much as you can."
---