Teen texting and driving: More than half admit to doing it
Teen texting and driving is a national problem, according to the first federal statistics released on the topic, with 58 percent of high school seniors admitting that they text or e-mail while driving.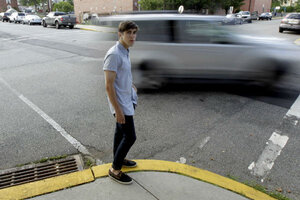 Julio Cortez/AP
Think your teen would never text while driving? More than half of high school seniors admitted in a government survey that they've done just that.
It's the first time the question was asked in a teen poll on risky behavior, and the finding comes amid a renewed federal crackdown on distracted driving.
Texting and cellphone use behind the wheel is "a national epidemic," Transportation Secretary Ray LaHood said Thursday.
"We need to teach kids, who are the most vulnerable drivers, that texting and driving don't mix," LaHood said at a Washington news conference to announce pilot projects in Delaware and California to discourage distracted driving.
In the survey, about 58 percent of high school seniors said they had texted or e-mailed while driving during the previous month. About 43 percent of high school juniors acknowledged they did the same thing.
"I'm not surprised at all," said Vicki Rimasse, a New Jersey woman whose son caused a fender bender earlier this year after texting in traffic. She made him take a safe-driving class after the mishap.
"I felt like an idiot," said her 18-year-old son, Dylan Young. The episode taught him "to be a lot more cautious," although he conceded that he sometimes still texts behind the wheel.
---