Bachelor's degree of doubt: An associate's is plenty to start a career
Bachelor's degrees are overpriced and undervalued – so many are opting for nontraditional routes. Though he thinks he'll need a bachelor's someday, Josephus Tudtud will be able to get a job right away in the media business with his associate's degree.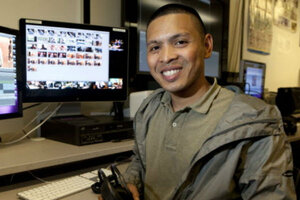 Melanie Stetson Freeman/Staff
Josephus Tudtud had already served two years in the Marines. But before deploying to Iraq in time to witness the Fallujah offensive of 2004 from his guard tower, he filmed his baby daughter.
"It sounds cheesy," he says, "but if I got killed, she'd have some footage of me being a father to her."
That impetus introduced him to video, and six years later – thanks to the GI Bill – he enrolled in the communications department of Brooklyn's Kinsgborough Community College.
Related: Are you helicopter-parenting a college grad? Take our quiz!
At a campus jobs fair recently, Mr. Tudtud sought out Sharon Jarrett, production and internship coordinator for Black Entertainment. He clutched a portfolio with freelance projects and a short film he made while interning with NYC Media, part of the Mayor's Office of Media and Entertainment.
---