Teenagers talking back? It could help them avoid peer pressure
Teenagers talking back may frustrate parents, but a new study says that teaching young teens to argue effectively (controlling emotions and using reason) will help them stand up to negative peer pressure.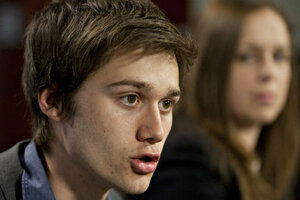 Jacques Boissinot/The Canadian Press/AP
Though parents have been teaching their children not to argue with adults for generations, new research from the University of Virginia shows that young teenagers who are taught to argue effectively are more likely to resist peer pressure to use drugs or alcohol later in adolescence.
"It turns out that what goes on in the family is actually a training ground for teens in terms of how to negotiate with other people," said Joseph Allen, a UVa psychology professor and the lead author of the study, results of which were published in a recent edition of the journal Child Development.
Allen said that parents are often "scared to death about peer pressure," but also frustrated by argumentative children.
"What we're finding is there's a surprising connection between the two," he said. Allen noted that teens "learn they can be taken seriously" through interactions with their parents.
"Sometimes, it can be counterintuitive to tell parents to let their teens argue with them," said Joanna Chango, a clinical psychology graduate student at UVa who worked on the study. In fact, learning effective argumentation skills can help teenagers learn to "assert themselves and establish a sense of autonomy," she said.
The study, part of a larger longitudinal study, observed 150 13-year-olds engaging in arguments, and then polled the same participants three years later about their experiences with drugs and alcohol.
---