Having it all: The work-family balance debate continues
Having it all – a professional career and a family – isn't possible, says Anne-Marie Slaughter in a recent Atlantic article. The piece reignited the debate about difficulties for working mothers and the need for more flexible time in the workplace.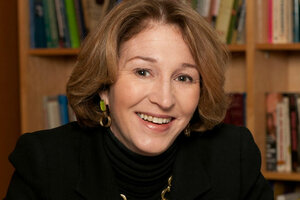 Princeton University/AP
Amy Schultz Pearson is 31, married and has two young daughters. She just began training in anesthesiology and will be working 50 to 80 hours a week.
Pearson has a message for Anne-Marie Slaughter, the former State Department policymaker who lamented in The Atlantic that her "have it all" approach to work and family didn't go so well: She's not surprised.
The difference? Pearson is happy. She knows that even if having it all is a myth, she'll revert with pleasure to part-time work without guilt or regret.
"I feel that while feminists of the previous generation may have told my generation that we could 'have it all,' we have observed their 'have it all' lives long enough to see through the well-meaning front," said Pearson, who chose to stay in her Midwest hometown for her medical training so relatives can help her and her husband, a teacher, with the kids.
"We're not surprised when someone like Dr. Slaughter reneges, but maybe they are, and they feel they have let us down. It's no one's fault," she said. "It's the nature of the beast when trying to combat hundreds of years of inequity in a matter of decades."
Slaughter, 53, returned to academia at Princeton after two years in Washington, away from her teen boys but with a husband at home and her tenure intact. Since her magazine story last week burst open the debate on the difficulties for working mothers, she has heard from hundreds of women, most of whom were grateful that such a high-flying career juggler has spoken up about the need for more flexibility on the job.
---