Child labor: Farming parents defend putting children to work
The US Labor Department has dropped its plans to regulate child labor on farms. The rules, say some farmers, did not reflect the reality on farms where children grow up learning about the dangers of equipment.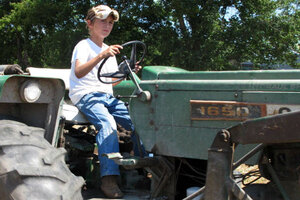 Jim Suhr/AP
As he watched his 10-year-old son ease a tractor across a soybean field, Dennis Mosbacher acknowledged the risks of farming.
But Mr. Mosbacher said the US Labor Department was misguided in its attempts to protect children from farm accidents and he's relieved the agency dropped its plans this spring and has promised not to take up the matter again.
"You can't make a rule to stop every accident," Mosbacher said after his son Jacob hopped off the 40-year-old, 60-horsepower tractor at their farm near the tiny southern Illinois town of Fults. "There's always a risk in life, no matter what you do."
Labor Department officials don't deny that, but they note that children performing farm work are four times more likely to be killed than those employed in all other industries combined.
Under the Labor Department's failed proposal, paid farm workers would have to be 16 to use power equipment, such as tractors. They would have to be 18 to work at grain elevators, silos and feedlots. The rules would not have applied to children working at farms owned by their parents, but they would have limited the paid jobs youngsters could do on their neighbors' and relatives' farms.
John Myers, chief of the National Institute for Occupational Safety and Health Administration's surveillance and field investigations branch, said it's unfortunate the agency dropped its proposal in the face of intense opposition from agricultural groups. Agency officials have said they will not take up the matter again as long as Barack Obama is president.
---