Colorado wildfires: Volunteers help families find belongings
Samaritan's Purse, an international relief organization, uses local volunteers in Colorado Springs to help families find their belongings in the aftermath of the Colorado wildfires.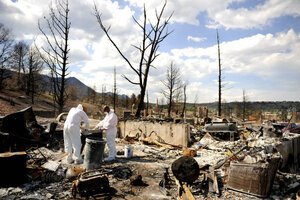 Susannah Kay/The Colorado Springs Gazette/AP
Before saying a prayer and heading out to sift through the ash and rubble of people's homes, Byron Spinney had a few words of advice for a group of volunteers.
"You are going to find things that are melted and all folded up and look like a blob and look like junk," he said. "Don't use the word 'junk.' Imagine how you would feel if someone looked at something that had been on your wall and called it junk. We want to respect them. We want to provide comfort and we want to love on them."
He was talking to a group of about 60 volunteers for Samaritan's Purse who chose to spend their afternoon shoveling and sifting through the ash of people's homes destroyed by the Waldo Canyon fire.
The international organization uses local volunteers to help out after tragedies. Volunteers have also helped after tornadoes and, most recently, in Larimer County after the High Park Fire.
Wayne Shoemaker, who leads the wildfire response in Colorado Springs for the organization, said that they are sifting through anyone's house that requests it and they vow to stay until the job is finished.
The work can be tedious, he said, with some houses taking several days to completely sift through.
"If you can get one house accomplished in a day, we're doing good," he said.
On Sunday, volunteer crews were at two homes on Yankton Place, where all 13 of the homes in the cul-de-sac had burned to the ground. The shells of the homes were filled with twisted metal, rock, ash and nails. At first glance, nothing looked salvageable.
Before starting, Spinney gave the volunteers more instructions.
First, they had to gently shovel the ashes into a bucket.
"Be very careful," he said to the shovelers. "You don't know what could be in there."
---