Unplugging: One family puts away technology
No Twitter, no cell phones – one family was without gadgets for six days and, says Dad, was better for it.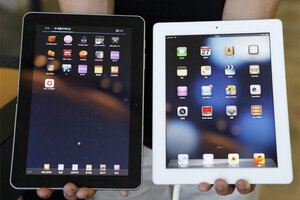 Lee Jae-Won/Reuters
Earlier this month I went off the grid and — to my surprise — loved it.
My family and I went camping in a remote corner of Lassen Volcanic National Park, which is some 50 miles east of Redding in Northern California. For most of the six days we were there, we had no wireless service. We couldn't check email, couldn't send texts and couldn't surf the Web. We couldn't even make calls.
And I haven't felt as relaxed in a long, long time.
Because I couldn't do anything about it, I didn't worry about trying to keep up with my inbox. I didn't stress about the latest missives from my managers or how to fit another meeting in my already overscheduled weeks. And I didn't fret about trying to keep up with the latest tidbit of news posted on Twitter.
It was only when we stopped in Chico, Calif., on our drive home and I was finally able to download and check my email that my blood pressure started to rise again.
Being disconnected allowed my wife and me to focus on each other, on our kids and the world around us. It's not unusual at our house for one or the other of us to be focused on some sort of screen, whether it's a tablet, a smartphone, a computer or a television.
We have good reasons for this, of course. My wife frequently works from home, and I sometimes do, too. Our jobs often require us to jump onto a computer to write a story or check email. We also use our gadgets to keep up with the news or to just relax at night.
But staring at a screen comes at the expense of face-to-face interaction. I often worry that my wife and I aren't giving our kids or each other our full attention because our minds are so immersed in the screens of our devices.
---