Kindergarten registration can also bring identity theft
Scammers are now using personal information listed as part of kindergarten registration to commit identity theft.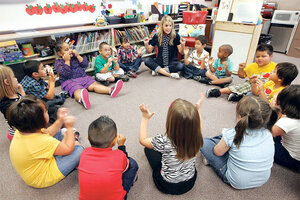 Richard Dickin/The Tri-City Herald/AP
It's no secret that identity thefts have seemingly reached near-epidemic proportions, with scammers indiscriminately targeting young and old alike.
But preying on kindergartners? It's now gotten to that point.
Back-to-school season tends to bring out identity thieves along with warnings to parents on how to keep their youngsters' birth certificates, Social Security numbers and other personal identification information from falling into the wrong hands.
The Federal Trade Commission urges parents to ask questions and carefully review all the registration and health forms, permission slips, student directory listings and other paperwork their kids bring home from school or extracurricular activities. After all, many thefts are inside jobs.
How bad is it?
A 2011 study on child identity theft from Carnegie Mellon University in Pittsburgh found that someone else was using the Social Security number of more than 10 percent of the children surveyed.
That was an astounding 50 times higher than adult survey experiences. The study — among the most comprehensive regarding youngsters and identity theft — reported that children's stolen personal information, especially Social Security numbers, was used to purchase homes and automobiles, open credit card accounts, land jobs and obtain driver's licenses.
The largest fraud, amounting to $725,000, involved a 16-year-old victim. The youngest victim was 5 months old. In fact, more than 300 victims in the Carnegie Mellon study were under the age of 5. It can take years for victims to untangle the financial mess and clear their credit history.
---