School lunch: mixed grades for new, healthy rules
Healthy school lunches get some thumbs down from chicken nugget lovers not so enthused by fewer calories and more fruit.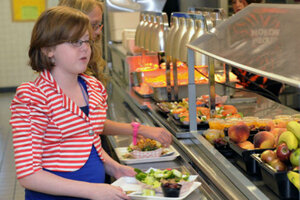 AP
One student complains because his cafeteria no longer serves chicken nuggets. Another gripes that her school lunch just isn't filling. A third student says he's happy to eat an extra apple with his lunch, even as he's noshing on his own sub.
Leaner, greener school lunches served under new federal standards are getting mixed grades from students piling more carrots, more apples and fewer fatty foods on their trays.
RELATED: 5 bullying myths – what you don't know
"Now they're kind of forcing all the students to get the vegetables and fruit with their lunch, and they took out chicken nuggets this year, which I'm not too happy about," said Chris Cimino, a senior at Mohonasen High School in upstate New York.
Lunch lines at schools across the country cut through the garden now, under new US Department of Agriculture nutrition standards. Mohonasen students selecting pizza sticks this week also had to choose something from the lunch line's cornucopia of apples, bananas, fresh spinach and grape tomatoes, under the standards. Calorie counts are capped, too.
Most students interviewed in this suburban district near Schenectady seemed to accept the new lunch rules, reactions in line with what federal officials say they're hearing elsewhere. Still, some active teens complain the meals are too skimpy. And while you can give a kid a whole-wheat pita, you can't make him like it.
"I was just trying to eat it so I wouldn't be hungry later on," Marecas Wilson said of his pita sandwich served this week at Eastside Elementary in Clinton, Miss.
---