Elizabeth Smart, kidnap survivor, marries in Hawaii
Elizabeth Smart, who was captive nine months after being kidnapped from her home in 2002 when she was 14, married her boyfriend of the past year in Hawaii on Saturday.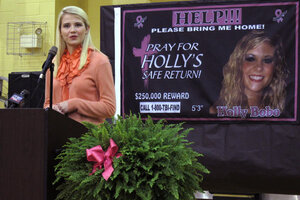 AP Photo/Adrian Sainz
Elizabeth Smart, who was kidnapped at age 14 from her Utah home and held for what she described as "nine months of hell," exchanged vows on Saturday with her boyfriend of the past year at a private wedding in Hawaii, her uncle told Reuters.
Smart, 24, and Matthew Gilmour, whom she met while she was serving a religious mission in Europe for the Church of Jesus Christ of Latter-day Saints, tied the knot at a Mormon temple overlooking the Pacific on the North Shore of Oahu, her uncle, Tom Smart, said.
RELATED: Are you a 'Helicopter Parent?' take our quiz!
A spokesman for Ms. Smart, Chris Thomas, added in a statement that the couple were accompanied by a small group of immediate family, and he described them as "beaming" as they left the temple on their way to a reception and luau.
---