Teen sexting: Strong link to risky sexual behavior
Teen sexting: Kids who do it are more likely to engage in risky sexual behavior, a new study shows. Sexting – of nude photos, particularly – increases a teen's odds of being cyber bullied if photographs wind up on the Internet.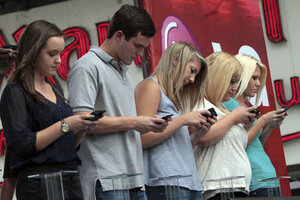 AP Photo/Mary Altaffer
One out of every seven Los Angeles high schoolers with a cell phone has sent a sexually explicit text message or photo, according to a 2011 survey that also found "sexters" more likely to engage in risky sex behaviors.
In the new study, the LA teens who had sent racy texts were seven times more likely to be sexually active than those who said they'd never sexted.
"No one's actually going to get a sexually transmitted disease because they're sexting," said Eric Rice, a social network researcher from the University of Southern California in Los Angeles, who led the new study.
RELATED: Top 5 bullying myths - What you don't know about bullying
"What we really wanted to know is, is there a link between sexting and taking risks with your body? And the answer is a pretty resounding 'yes,' " he told Reuters Health.
---