Grandparents are helping grandchildren more with school, says study
Grandparents are spending billions of dollars on their grandchildren's educations each year. Here are a few tips grandparents should keep in mind if they're heavily involved with school.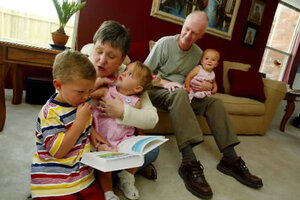 The Christian Science Monitor/Robert Harbison
Grandparents dote on their grandchildren to the tune of about $52 billion each year, the bulk of which — $32 billion — goes to school tuition and other education costs, according to "The Grandparent Economy," a study by American Demographics founder Peter Francese.
It follows, then, that they would want a say in that education. A growing number of grandparents are helping with class projects, checking homework, even attending parent-teacher conferences, says Cheri Burcham, a family life educator at the University of Illinois Extension.
"Their top concern is helping their grandkids succeed in school and advocating for them with their teachers," says Burcham.
Marry that information to the fact that 5.4 million American children are being raised by their grandparents, according to 2010 Census figures, and you have a national portrait that looks a lot different from the back-to-school ads.
With the right approach, this dynamic can benefit all parties. Experts say grandparents should keep the following in mind as the new school year marches on.
Ask, don't tell. "Ask questions rather than giving answers," says Mount Sinai School of Medicine psychiatry professor Georgia Witkin, author of "The Modern Grandparent's Handbook: The Ultimate Guide to the New Rules of Grandparenting" (NAL Trade). "The parents may be feeling somewhat guilty that they're not able to do more, and you really have to be sensitive to your son's or daughter's feelings. 'Would you like me to talk to the teacher, or is that something you'd prefer to do?' 'Would it be helpful if I go to the parent-teacher conference?' Constantly let them know you see them as the parents."
---